LONGITUDE
1 - 2 JULY 2023
MARLAY PARK
PUBLIC INFORMATION NOTICE
OUTDOOR STANDING EVENT
Please dress appropriately for Irish weather and check weather prior to arrival.
Gates - 13:30pm (Please note times are subject to change)
Due to increased traffic & security measures attendees are advised to be at the venue in sufficient time. No overnight or early queuing. Please respect local residents and other park users by not engaging in anti-social behaviour.
THERE IS NO RE-ADMISSION TO THIS EVENT.
FOR YOUR SAFETY & ENJOYMENT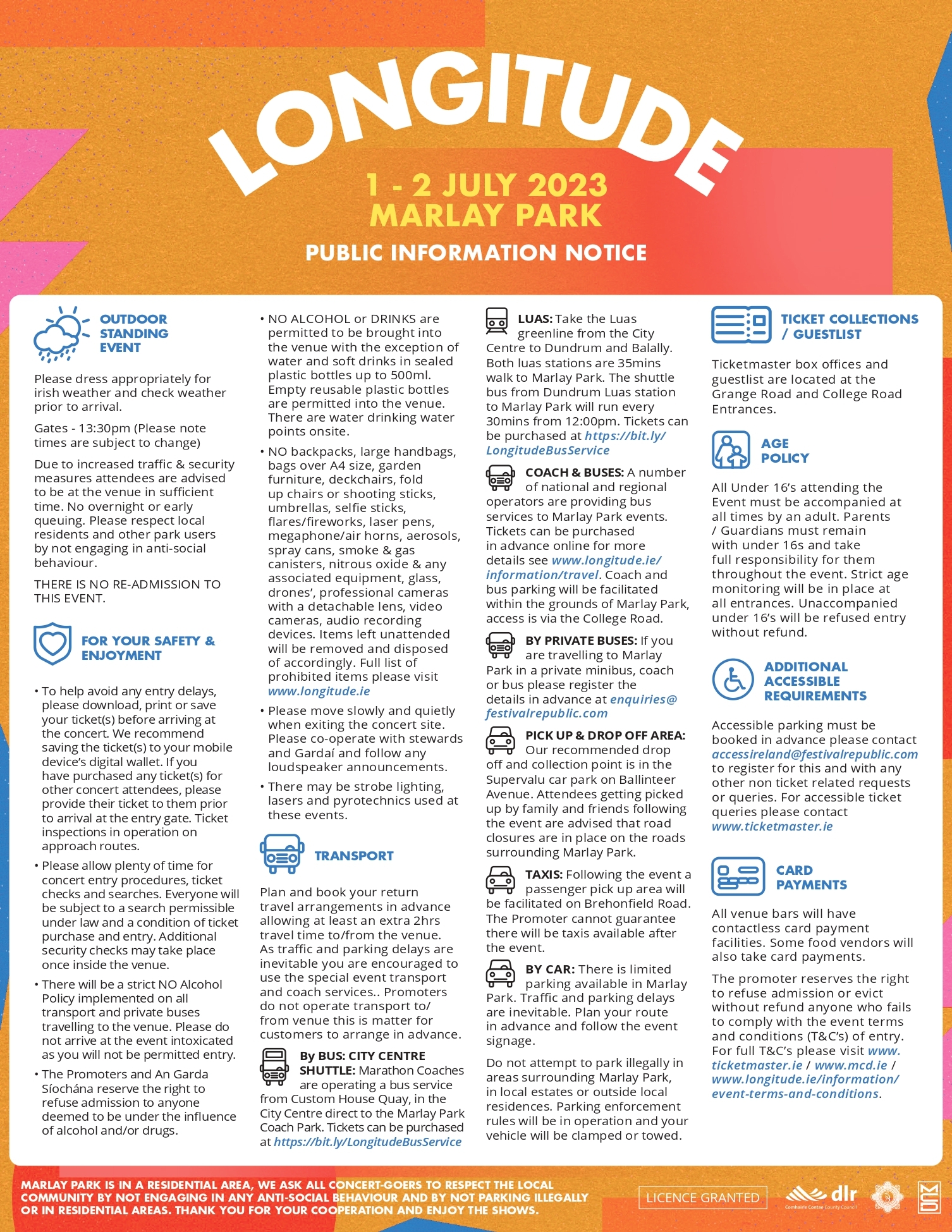 To help avoid any entry delays, please download, print or save your ticket(s) before arriving at the concert. We recommend saving the ticket(s) to your mobile device's digital wallet. If you have purchased any ticket(s) for other concert attendees, please provide their ticket to them prior to arrival at the entry gate. Ticket inspections in operation on approach routes.
Please allow plenty of time for concert entry procedures, ticket checks and searches. Everyone will be subject to a search permissible under law and a condition of ticket purchase and entry. Additional security checks may take place once inside the venue.
There will be a strict NO Alcohol Policy implemented on all transport and private buses travelling to the venue. Please do not arrive at the event intoxicated as you will not be permitted entry.
The Promoters and An Garda Síochána reserve the right to refuse admission to anyone deemed to be under the influence of alcohol and/or drugs.
NO ALCOHOL or DRINKS are permitted to be brought into the venue with the exception of water and soft drinks in sealed plastic bottles up to 500ml. Empty reusable plastic bottles are permitted into the venue. There are water drinking water points onsite.
NO backpacks, large handbags, bags over A4 size, garden furniture, deckchairs, fold up chairs or shooting sticks, umbrellas, selfie sticks, flares/fireworks, laser pens, megaphone/air horns, aerosols, spray cans, smoke & gas
canisters, nitrous oxide & any associated equipment, glass, drones', professional cameras with a detachable lens, video cameras, audio recording devices. Items left unattended will be removed and disposed of accordingly. Full list of prohibited items please visit www.longitude.ie
Please move slowly and quietly when exiting the concert site. Please co-operate with stewards and Gardaí and follow any loudspeaker announcements.
There may be strobe lighting, lasers and pyrotechnics used at these events.
TRANSPORT
Plan and book your return travel arrangements in advance allowing at least an extra 2hrs travel time to/from the venue. As traffic and parking delays are inevitable you are encouraged to use the special event transport and coach services.. Promoters do not operate transport to/ from venue this is matter for customers to arrange in advance.
BY BUS: CITY CENTRE SHUTTLE
Marathon Coaches are operating a bus service from Custom House Quay, in the City Centre direct to the Marlay Park Coach Park. Tickets can be purchased at https://bit.ly/LongitudeBusService
LUAS
Take the Luas greenline from the City Centre to Dundrum and Balally. Both Luas stations are 35mins walk to Marlay Park. The shuttle bus from Dundrum Luas station to Marlay Park will run every 30mins from 12:00pm. Tickets can be purchased at https://bit.ly/LongitudeBusService
COACH & BUSES
A number of national and regional operators are providing bus services to Marlay Park events. Tickets can be purchased in advance online for more details see www.longitude.ie/information/travel
Coach and bus parking will be facilitated within the grounds of Marlay Park, access is via the College Road.
BY PRIVATE BUSES
If you are travelling to Marlay Park in a private minibus, coach or bus please register the details in advance at enquiries@festivalrepublic.com
PICK UP & DROP OFF AREA
Our recommended drop off and collection point is in the Supervalu car park on Ballinteer Avenue. Attendees getting picked up by family and friends following the event are advised that road closures are in place on the roads
surrounding Marlay Park.
TAXIS
Following the event a passenger pick up area will be facilitated on Brehonfield Road. The Promoter cannot guarantee there will be taxis available after the event.
BY CAR
There is limited parking available in Marlay Park. Traffic and parking delays are inevitable. Plan your route in advance and follow the event signage. Do not attempt to park illegally in areas surrounding Marlay Park, in local estates or outside local residences. Parking enforcement rules will be in operation and your vehicle will be clamped or towed.
TICKET COLLECTIONS / GUESTLIST
Ticketmaster box offices and guestlist are located at the Grange Road and College Road Entrances.
AGE POLICY
All Under 16's attending the Event must be accompanied at all times by an adult. Parents
/ Guardians must remain with under 16s and take full responsibility for them throughout the event. Strict age
monitoring will be in place at all entrances. Unaccompanied under 16's will be refused entry without refund.
ADDITIONAL ACCESSIBLE REQUIREMENTS
Accessible parking must be booked in advance please contact accessireland@festivalrepublic.com to register for this and with any other non ticket related requests or queries. For accessible ticket queries please contact
CARD PAYMENTS
All venue bars will have contactless card payment facilities. Some food vendors will also take card payments.
The promoter reserves the right to refuse admission or evict without refund anyone who fails to comply with the event terms and conditions (T&C's) of entry. For full T&C's please visit www.ticketmaster.ie / www.mcd.ie /
www.longitude.ie/information/event-terms-and-conditions
MARLAY PARK IS IN A RESIDENTIAL AREA, WE ASK ALL CONCERT-GOERS TO RESPECT THE LOCAL COMMUNITY BY NOT ENGAGING IN ANY ANTI-SOCIAL BEHAVIOUR AND BY NOT PARKING ILLEGALLY OR IN RESIDENTIAL AREAS. THANK YOU FOR YOUR COOPERATION AND ENJOY THE SHOWS.